Page 7 - Frankford 2021-22 Catalog
P. 7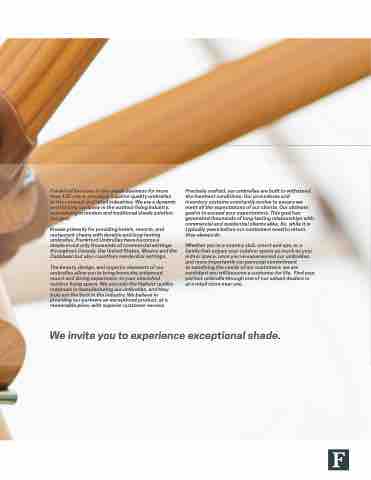 Frankford has been in the shade business for more than 120 years, providing superior quality umbrellas to the contract and retail industries. We are a dynamic and thriving company in the outdoor living industry, specializing in modern and traditional shade solution designs.
Known primarily for providing hotels, resorts, and restaurant chains with durable and long-lasting umbrellas, Frankford Umbrellas have become a
staple in not only thousands of commercial settings throughout Canada, the United States, Mexico and the Caribbean but also countless residential settings.
The beauty, design, and superior elements of our umbrellas allow you to bring home the enhanced resort and dining experience, to your cherished outdoor living space. We use only the highest quality materials in manufacturing our umbrellas, and they truly are the best in the industry. We believe in providing our partners an exceptional product, at a reasonable price, with superior customer service.
Precisely crafted, our umbrellas are built to withstand the harshest conditions. Our procedures and
inventory systems constantly evolve to ensure we meet all the expectations of our clients. Our ultimate goal is to exceed your expectations. This goal has generated thousands of long-lasting relationships with commercial and residential clients alike. So, while it is typically years before our customers need to return, they always do.
Whether you're a country club, resort and spa, or a family that enjoys your outdoor space as much as your indoor space, once you've experienced our umbrellas, and more importantly our personal commitment
to satisfying the needs of our customers, we are confident you will become a customer for life. Find your perfect umbrella through one of our valued dealers or at a retail store near you.
We invite you to experience exceptional shade.